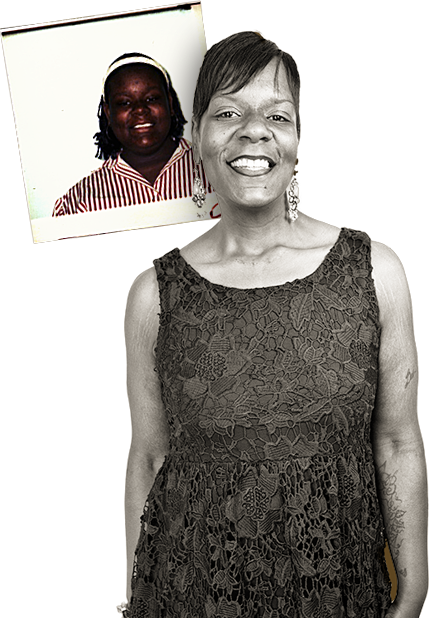 The Dreamers
Keyda (Young) Walker
I had just got promoted from sixth grade, and my mom had got special permission—this is back when you had to stand in line to get out-of-boundary requests—to send me to Jefferson Junior High School or Deal. I got accepted to both. And then, this letter came in the mail with the possibility of a full scholarship to any college. My mother called and said, Is my daughter safe? Because Kramer Junior High School, during that time, was off the hook. I don't know who convinced her, but that's where I landed.
But God is good as far as sending me to Kramer, because I met so many people there. And we're still good friends now, to this day.  And Mr. Bumbaugh came into our life, and he was very instrumental during that time. He was like a father, a big brother, you know, a motivator. The program was an escape for me sometimes, getting me away from what was surrounding us—you know, going to Mr. Bainum's house in the summer, and they're rewarding us for honor roll. Those were the best years of my life. But, you know, a lot of people were going through a lot back then. In the '80s, it was rough in DC, especially Southeast. The drugs ripped a lot of families to shreds. And alcohol—we had a lot of Dreamers, their family members, mother or father was an alcoholic. It was extremely rough.
Our house was like a refuge for a lot of Dreamers, a safe haven. And they never knew, they never knew, my father was on drugs. Isn't that crazy? It was like the suburbs and the 'hood, do you hear me? You know how in the suburbs you don't know who's on drugs. My father was a functional junkie. He worked for the federal government, the IRS. He was on heroin throughout my whole life, and I was battling with that in my household: My mother working 12 hours, he being high, you know, and I got to make sure me and my little brother eat, cook, clean.
And then, as years went by, ninth grade, I started rebelling, you know: The attention can't always be on him and his drug habit.  What about us? So I started rebelling—and I got pregnant. Beginning of 10th grade. I was very disappointed. But, what could I do?  I was depressed. My mom found out when I was seven months—that's how much she worked. I hid everything from her. I was, like, how am I going to tell this lady? She's going to lose it. Because she put a lot of responsibility on me. "I'm going to need you to do this." You know, "I'm trying to work with your father." I mean we had a rapport that I could talk to her, she could talk to me, so it really beat her up inside. My mother cried for two weeks straight. She told me, "You're going to finish school, or I'm going to kill you." Her exact words.  So I knew I was going to finish.
It was rough.  Believe me. I didn't know what I was signing up for then. I mean, the baby, my mom at work, my father doing this, my little brother doing that. Absolutely drained. Mr. Bumbaugh and Mr. Bainum sent a tutor over to tutor me after I had my daughter, because I guess they didn't want me to miss things. It was a blessing that they did that for me. In 11th grade I slipped, my grades plummeted, and Mr. Bumbaugh was like, "This is not you"—trying to motivate me. By my senior year, I got right back on track, back on the honor roll. And I graduated on time. In '94.
Before we was getting ready to graduate, I Have a Dream had a meeting with our parents. My mother came home slamming doors.  That old lady was teed off, do you hear me? And I said, what's going to on? The understanding earlier—I would say "misunderstanding"—had been that it was a full scholarship. Sitting back, maybe a lot of the money resources went to the ones that went to the boarding school. That was expensive, you know? But if it took that for you to save one of my brothers or sisters that was in a terrible situation growing up, and putting them in boarding school, do it. Kudos, you hear me? Thank you. I'm not even mad, do you hear me? I mean, we was teed off then, but you got to get over it. I'm not blaming them. I just wish we had a better understanding of their intentions.
After finishing, I went away to St. Paul College in Lawrenceville, Virginia. I picked this school because you could take your child with you. But once I got there, all the dorms with the single moms were already booked up. So it was a total wreck. My mom was like, "Keyda, I want you to stay." I stayed for a year. But I had to come back; I was missing my daughter and didn't like it. I really regret that. I should have stayed there for four years and just finished it out. I enrolled into PG Community College, but I didn't finish there. I started to work, and went to a technical school for medical assistants. I used that training for a long time. I was in the abortion field. But I'm out of the medical field now. I drive the school bus for DCPS.
Even though I know my dream never came to reality, I forfeited my dreams for my daughter—how 'bout that? And she's doing what my dream didn't allow me to do. She's doing it. My baby was a salutatorian in her high school, Thurgood Marshall, do you hear me? She got enough scholarships for college and graduate school. She's at University of Vermont now, and she loves it. She loves it. And I'm behind her 100%. Every day. And if I don't talk to her within a day, I have the chief of security officer's number down. One day, I didn't talk to her, I put a APB out on her. She was so embarrassed. She called me and she said, "I'm grown." "You're not grown yet. You're grown when you turn 21 and you're out of my house. I want you to call me every day." Everybody look at me like, You're crazy. I don't care.  It's too much going on out here. I have plans for Brianna. I'm glad she didn't have a baby. That's a double blessing. I just want her to stay focused. And then my son—they're almost nine years apart—was sixth place in the geography bowl in fifth grade. That's his little accomplishment. They know: Education is first.
So, I mean, sometimes you got to devour your dreams in order for your kids to grow. I was really, really hard on myself for not finishing school. And I can go back, yes, I can. It's never too late. But if my dream is living through them, and they making it, I'm loving it.