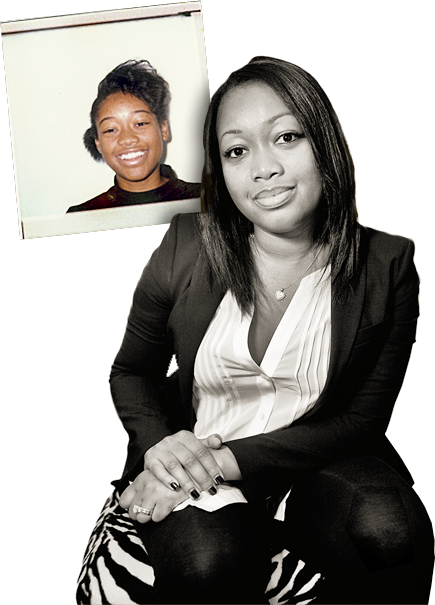 The Dreamers
Monique (McDavid) Zaragoza
As Dreamers, we did a lot of trips and excursions, just to give people more exposure to different things. And I remember there was also another Dreamer group, that was the same grade, and we would all meet up. Those were fun times. They gave us SAT prep classes for those students applying to college—and college tours. They were always open and available. And encouraging you to kind of get outside your comfort zone and do something different, do something else.
I want to say I was always focused on the end goal, but, you know, for me, there were periods of time where anything could have happened differently. So, looking back on it, probably what I would tell another student coming up is just to try to take advantage of every resource and opportunity that's presented. You know, accept all blessings. Because you never know what that resource will provide for you later, and you're not in a position as a teenager to really fully know the extent.
For me personally, probably the biggest benefit, the biggest resource, has always been Mr. Bumbaugh. I could always call him or contact him. He helped me when I was applying for law school. He helped me when I was looking for a summer job after my first year in law school. And it was Mr. Bumbaugh who introduced me to his friend who was working at a public defender service, so I did a summer there. And now I work for the Los Angeles County Public Defender's Office. So, he's always been a great reference—still is. For me, that's been a huge benefit. And I'm quite sure some of the other Dreamers may say Mrs. Rumbarger has been that person for them. It's been truly beneficial to still have this one person, this constant being, who's been there and has seen your transition from 12, 13 years old to now, you know? They know the struggle. They know where you were to where you are now.