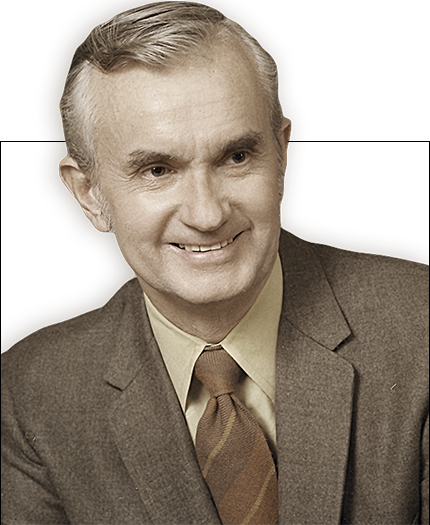 The Sponsor
Stewart Bainum
Stewart William Bainum was born June 10, 1919 in Detroit, and grew up in Cincinnati during the Depression. As a teenager, he convinced his mother to allow him to attend boarding school at Mount Vernon Academy in Mount Vernon, Ohio, the same school ten Dreamers would attend decades later. In his senior year of high school, he was unable to pay his tuition and hitchhiked from Cincinnati to Washington, DC—with a cardboard suitcase in hand and $3 in his pocket. Determined to pay his tuition, he landed a job as a plumber's helper. Saving his money, he returned to the Academy and graduated in 1938.
After graduation he spent a year at Washington Missionary College where he met his future wife, Jane Goyne. He went to school full time and worked two full time jobs—a difficult task, which eventually forced him to leave college. He never earned a college degree.
Stewart and Jane married in 1941, and went on to have four children. He became a licensed master plumber at 21. To earn extra money, he drove a taxi at night, and on weekends sold watermelons out of the back of his truck by the side of the road. By the age of 24, he had saved enough to start a plumbing business. In time, he began developing houses and small apartment buildings, which propelled him into the cornerstones of his career—hotels and nursing centers.  
Stewart Bainum built his first hotel in 1957. Branching out he founded ManorCare, a universally acclaimed nursing home company. Stewart soon turned his attention to the Quality Courts Motel Group, where he went on to build his fortune. He remained CEO of the company known today as Choice Hotels International until 1981, and Chairman of the Board from 1972 until 1987. By the end of his tenure, Choice Hotels International had delivered more incremental new business to its hotels than any other franchise system in the world, and pioneered more industry firsts than any other hotel company.
A humble and unassuming man, Mr. Bainum never forgot what it was like to struggle for an education. He believed that it was better to give a hand up than a hand out. So, in 1968 he founded the Commonweal Foundation (formerly known as the College Fund) to provide educational opportunities for low-income children and youth.
In 1988, Stewart and Jane Bainum decided to support the I Have A Dream Program, and sponsored the second class in the Washington DC area: 67 seventh graders at Kramer Junior High School in Anacostia. The Bainums expanded on the I Have a Dream model, hiring two dedicated full-time staff and adding a strong educational component to the mentorship program. He was a memorable figure in the Dreamers' lives, hosting them at his farm each year and throwing an annual Christmas party at one of his hotels.  While the Dreamers themselves graduated high school at nearly three times the rate of their non-Dreamer peers, Stewart Bainum could not have anticipated the lasting effect of the Dreamers program. In 2013, 100% of Dreamers surveyed expect and encourage their children to go to college.

Stewart Bainum remained a product of his formative years for his entire life; a life of deep religious faith and a tireless work ethic. He passed away peacefully on February 12, 2014 at the age of 94.